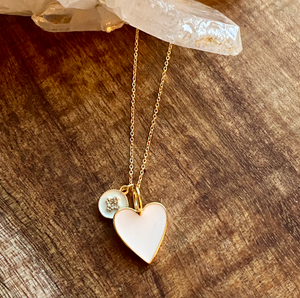 How do you say I love you to your mother, daughter, sister, or best friend? This beautiful white enamel heart & Diamond Pave good luck charm might be the perfect way to say those three most precious words. This necklace is perfect to give to that special someone, or to give to yourself this Valentine's season.
Details:
Materials: white enamel Gold heart, Diamond Pave and enamel clover charm, 14K Gold-filled chain
Diamond

 Weight: 0.13 Ct

Necklace Length:

16" Standard, also available in 18" and 20" lengths

This beautiful handmade necklace comes thoughtfully gift-wrapped. 
About the Materials:
Diamonds hold deep spiritual meanings thanks to their rarity, purity, and brilliance. Formed over billions of years and composed of pure carbon – the foundation of all life in the world around us – Diamonds have also been used over the centuries to help open the mind to the new and possible. It is believed that the illumination and reflection of a Diamond will inspire imagination and ingenuity in its wearer. They also bring about strength, fortitude, and courage through a Diamond's hardness and 'invincibility,' having the power to drive away bad energy or misfortune.