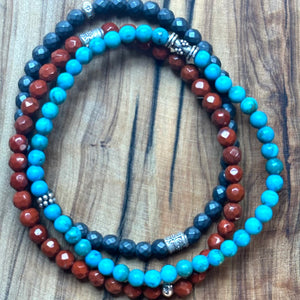 This trio is both grounding and protective. Turquoise is the stone of kings and queens, it represents protection, royalty and together with Red Jasper and Hematite, this trio is perfect for protection, guidance and emotional strength. Save $20 off this limited edition trio for a limited time only! 

 Details:
Material: 4mm faceted Red Jasper, matte dark Hematite and 4mm smooth authentic Turquoise finished with Sterling Silver bead and spacers
Sizing: If you don't see a size that will fit your wrist, please reach out to us via the contact page.
These bracelets are designed equally for women and men and are uni-sexy.
Each bracelet comes in a thoughtfully gift-wrapped box or silk pouch, perfect for any gift-giving. 
About the Materials:
Turquoise is perhaps the oldest stone in man's history, the talisman of kings, shamans, and warriors. It is a stone of protection, strong and opaque, yet soothing to the touch, its unique shade of blue, often blue-green is healing to the eye. The delicate veining or mottled webbing in cream or brown is inherent to the stone and serves to enhance its character.
Red Jasper stimulates gently and steadily, enhancing stamina and endurance, and increasing the amount of chi, or life force, in one's system. It is a stone of courage to face unpleasant tasks and to rectify unjust situations. Red Jasper echoes the vast and complex ecosystem of Earth. It is especially good for opening up the root Chakra and purifying one's center energy field.
Hematite has an excellent grounding and balancing energy, and it is a powerful aid to stimulate the mind. It enhances memory and evokes deep thought.