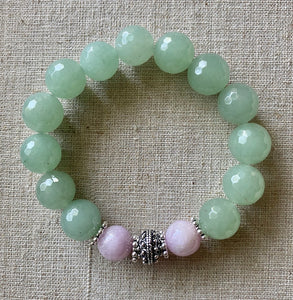 Kunzite and Aventurine are a perfect match both energetically as well as visually. Kunzite is the stone of unconditional love and Aventurine is the stone of releasing negativity and anger.
Together they are beautiful and deeply healing. 
Details:
Material: Aventurine, Kunzite, Sterling Silver bead and spacers

Sizing: If you do not see a size that fits, please contact LaSirene Designs directly for custom sizing requests.
About the Materials:
Aventurine is useful to loosen and release negativity and energy blockages, including disease. Some wear or carry Green Aventurine to increase intelligence, perception, and creativity.  Aventurine properties are linked with the Heart Plexus Chakra, which makes it a powerful gem for calming negative emotions such as anger that often gets stuck in the heart center. Physically, Green Aventurine is an all-around healing stone with benefits for the lungs, liver, sinuses, and heart.
Kunzite is a highly spiritual stone, connecting to the source of unconditional love, producing loving thought and action. Kunzite centers the holder, projecting a sense of deep peace. Kunzite is a highly vibrational stone and can be used to go into a deep, meditative state.