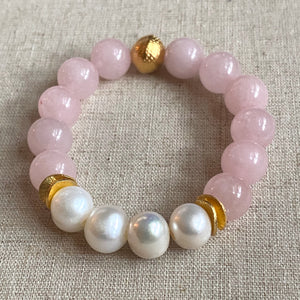 There's something about pale pink and Pearls. It gives off an old school glamour and at the same time, it's contemporary. Rose Quartz is the stone of infinite love and Pearls evoke wisdom and good fortune. This bracelet will support you in all your self-love healing.
Details:
Material: 12mm Rose Quartz, Freshwater Pearls, 24K Gold vermeil bead and spacers

Sizing: If you do not see a size that fits, please contact LaSirene Designs directly for custom sizing requests.
About the Materials:
Rose Quartz has the power to open up your Heart Chakra to every kind of love that you need—whether it's self-love, familial love, friendship love, love for humanity, or romantic love. 
Pearls are symbolic of wisdom gained through experience. Believed to offer protection, as well as to attract good luck and wealth, they are known for their calming effects.