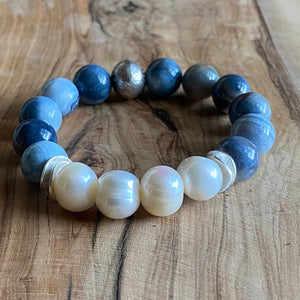 Inspired by an Irish beauty, artist, and friend! These beautiful blue-banded Agate stones also remind me of the waters off the west coast of Ireland. Sligo, until we meet again. 
Details:
Material: 12mm Blue Banded Agate, Freshwater Pearls, Sterling Silver bead and spacers
Sizing: If you don't see a size that will fit your wrist, please reach out to us via the contact page.
Limited Quantities.
About the Materials: 
Blue Banded Agate enhances mental activity by improving concentration, perception, and analytical abilities. Blue Banded Agate promotes self-acceptance and confidence, overcomes negativity and harshness of the heart, and encourages love. It is a very useful stone for any kind of trauma. The wearing of Agate was believed to be a cure for insomnia and was thought to induce pleasant dreams. Agate is said to have the power to protect the wearer from danger and to protect children from falling.

Baroque Pearls are symbolic of wisdom gained through experience. Believed to offer protection, as well as attract good luck and wealth, they are known for their calming effects.