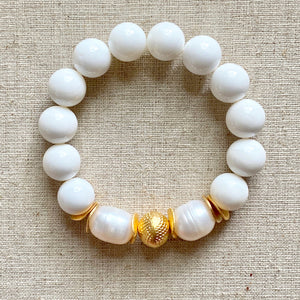 This bracelet was inspired by the glamourous pool parties of old Hollywood. The Kate is timeless and shamelessly stunning. This bracelet is a modern ode to those bygone days of effortless glamour. It's the definitive acknowledgment that summer has arrived. Try and resist; it's hard to look away.
Smooth ultra-white Tridacna shell with large Baroque Pearls. Together with 24K vermeil spacers and beads, they make for an unforgettable bracelet. 
Details:

Material: Smooth 12mm Tridacna, Baroque Pearls, 24K Gold vermeil
Sizing: If you don't see a size that will fit your wrist, please reach out to us via the contact page.
This bracelet comes thoughtfully gift-wrapped, perfect for gift-giving for any occasion.
Limited Quantities.

About the Materials:
Tridacna stone helps to soothe frazzled nerves and calm the entire body, and it also helps ease insomnia. It's also said to reduce blood pressure, promote good metabolism, and provide anti-aging benefits.
Pearls are symbolic of wisdom gained through experience. They are believed to offer protection, as well as to attract good luck and wealth.