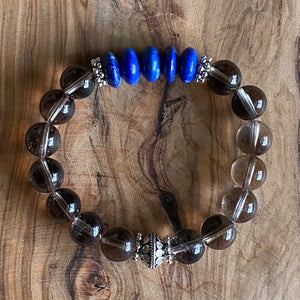 Lapis Lazuli is a stone of wisdom and self-awareness. Smoky Quartz brings strength, positivity, and protection.
Details:

Material: 10mm Lapis Lazuli rondelles, 10mm Smoky Quartz, Sterling Silver bead and spacers
Sizing: If you do not see a size that fits, please contact LaSirene Designs directly for custom sizing requests.
Each bracelet comes in a thoughtfully gift-wrapped box or silk pouch, perfect for any gift-giving. 
 About the Materials:
Lapis Lazuli is a powerful stone for activating the higher mind and enhancing intellectual ability. It stimulates the desire for knowledge, truth, and understanding, and aids the process of learning.
Smoky Quartz offers a rare and beautiful transparency that draws light into shades of black and brown. It is a talisman of the Root Chakra, an anchor in the natural world that draws white light energy from the Crown down through the body to be rooted in the physical plane.