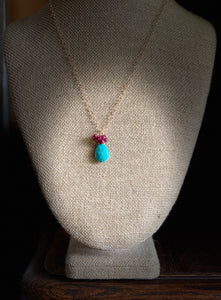 A beautiful Sleeping Beauty Turquoise briolette is clustered with small Ruby rondelles on an 18" 14K Gold-filled round chain. 
Details:
Materials: Sleeping Beauty Turquoise, Ruby, 14K Gold-filled chain
This beautiful necklace comes thoughtfully gift-wrapped and is perfect for a special occasion or just because.
About the Materials:
Turquoise
is a stone of protection, strong and opaque, yet soothing to the touch, its unique shade of blue, often blue-green is healing to the eye.
Sleeping Beauty Turquoise is revered and highly sought after due to its pure sky blue color which shows very little to no veining or webbing.
Ruby is a stone of divine creativity. It boosts your energy levels and promotes high self-esteem, intuition, and spiritual wisdom.