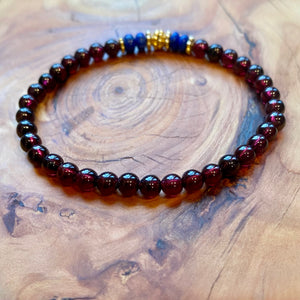 The deep Bordeaux red of Garnet paired with the brilliant blues of Lapis Lazuli make this small bead bracelet a best seller.  
Details:
Material: 5mm smooth round garnet AAAA quality stones, 5mm Lapis Lazuli rondelles, 24K Gold Vermeil beads and spacers.
Sizing: If you don't see a size that will fit your wrist, please reach out to us via the contact page.
Each bracelet comes thoughtfully gift-wrapped in a silk pouch, perfect for gift-giving for any occasion.
About the Stones:

Garnet has long been known for its rich connections to creativity and love. The Garnet comes with a thousand stories to its name. The spiritual meaning of Garnet is that it is the embodiment of the energies of fire, passion, creativity, and strength.  Feel your strength and your self be empowered wearing this stone.
Lapis Lazuli is called the Wisdom Keeper for bringing forth wisdom and intuition. This beautiful stone will support finding full spiritual potential. It is a powerful stone for broadening understanding and is especially beneficial those looking to improve their self-expression and inner-knowledge.