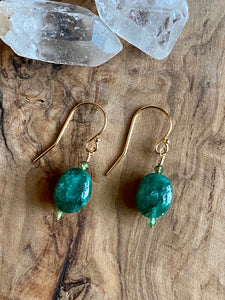 These adorable little raw Emerald ovals are petite, dainty, and perfect for daytime to nighttime wear. Their color is exceptional and they will delight you every day.
Details
9mm smooth oval cut Emerald stones, Green Tourmaline rondelles, 14KGF ear wire
Very Limited Quantities.
These adorable earrings come thoughtfully gift-wrapped and are perfect for a special occasion or just because.
About the Materials: 
Emerald is believed to improve memory and intelligence, and enhance clairvoyance. The name Emerald comes from the Sanskrit word marakata, which means spring green. They are also worn to enhance love and contentment. Cleopatra prized emeralds above all other gems.
Green Tourmaline (Verdilite) is supposedly the most healing of all the Tourmalines. It's the masculine counterpart to feminine pink Tourmaline, and it's meant to boost courage, strength, stamina, and vitality. The color can range from pale green to shades of olive.