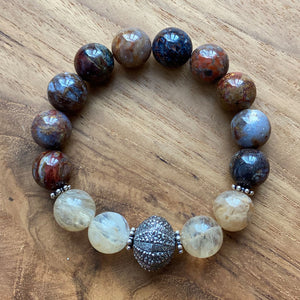 Pietersite is a stone of clarity and manifestation, joined with Citrine, a stone of abundance and prosperity. 
 Details:
Material: Petersite, Citrine, Sterling Silver
Sizing: If you do not see a size that fits, please contact Lasirene Designs directly for custom sizing requests.
This bracelet looks especially beautiful when stacked together with others.
About the Materials:
Pietersite is also known as Tempest Stone as it is a stone that carries a charge, a little like a storm raging within it.  It brings cleansing energy to aid you to create change. This is a crystal that is very stimulating to your energy field and helps you to let go of unwanted habits and negative ways of living your life.
Citrine is a stone as bright as its energy. Everything about this stone emanates positivity and joy. It is a stone of prosperity, abundance, and creativity.