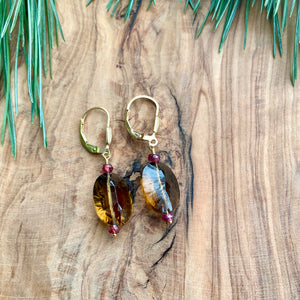 Champagne Quartz faceted oval stones with Pink Tourmaline detail dangling earrings. These are truly lovely and unique stones. 
Details
Oval-cut Champagne Quartz Stones, Pink Tourmaline, 14K Gold level back 
Drop length: .75 inches
These elegant earrings come thoughtfully gift-wrapped and are perfect for a special occasion or just because.
Champagne Quartz activates and connects the Sacral Chakra through to the Crown Chakra. It helps to ground higher spiritual ideas into physical reality. Carry Champagne Aura Quartz when called to fulfill altruistic purposes.