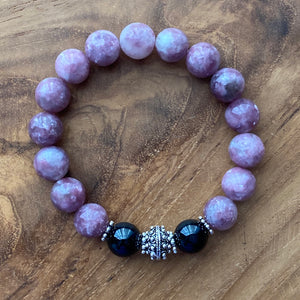 Lepidolite is known as the anti-anxiety stone of the crystal kingdom and helps with stress and anxiety reduction while encouraging self-love. Black Tourmaline is a protective stone, shielding you from negativity. 
Details:
Material: Lepidolite, Black Tourmaline, Sterling Silver
Sizing: If you don't see a size that will fit your wrist, please reach out to us via the contact page.
These bracelets are designed equally for women and men and are uni-sexy.
Each bracelet comes in a thoughtfully gift-wrapped box or silk pouch, perfect for any gift-giving. 
About the Materials:
Lepidolite is one of the best mood stabilizers in the world of crystals. It contains a high amount of lithium, which is also used in anti-anxiety medication. Lepidolite assists in the release and reorganization of old behavioral and psychological patterns, gently inducing change. It brings deep emotional healing and soothing, and it reduces stress and depression. Call on Lepidolite to balance the mind and spirit. This gentle healing stone stimulates all chakras and encourages independence, self-love, and trust. It dissolves energy blocks that keep you from happiness.
Black Tourmaline provides protection and deflects negativity. It acts as a bodyguard against toxic people, damaging influences, misfortune, and negative energy.