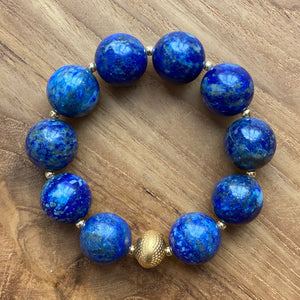 This stunning bracelet is a show stopper. Lapis Lazuli is a stone of wisdom and self-awareness. These large stones are stunning; they are spaced by 14KGF spacer beads and large 24K Gold vermeil bead.
Details:
Material: Lapis Lazuli, 14 KGF, 24K Gold vermeil bead
Sizing: If you do not see a size that fits, please contact LaSirene Designs directly for custom sizing requests.
Each bracelet comes in a thoughtfully gift-wrapped box or silk pouch, perfect for any gift-giving. 
About the Materials:
Lapis Lazuli is a powerful stone for activating the higher mind and enhancing intellectual ability. It stimulates the desire for knowledge, truth, and understanding, and aids the process of learning.