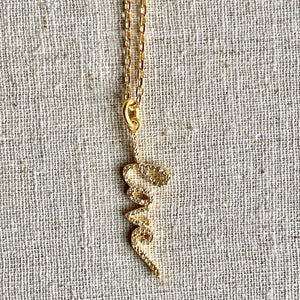 What could be love-lier than putting a little "love" around your neck? This dainty Pave Diamond love charm necklace is perfect to give to that special someone, or to give to yourself this Valentine season.  
Details:
Materials: Love Script Pave Diamond "love" pendant (medium), 14K gold fill chain, 
Diamond Weight: .33 ct. wt.
Necklace Length:

16" Standard, also available in 18" and 20" lengths.

This beautiful handmade necklace comes thoughtfully gift-wrapped. 
About the Materials:
Diamonds hold deep spiritual meanings thanks to their rarity, purity, and brilliance. Formed over billions of years and composed of pure carbon – the foundation of all life in the world around us – Diamonds have also been used over the centuries to help open the mind to the new and possible. It is believed that the illumination and reflection of a diamond will inspire imagination and ingenuity in its wearer. They also bring about strength, fortitude, and courage through a Diamond's hardness and 'invincibility,' having the power to drive away bad energy or fortune.