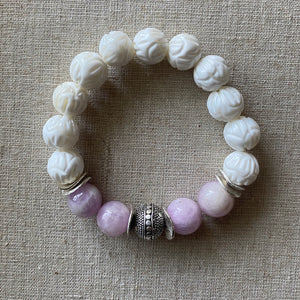 Larger Carved Tridacna Shell beads and Kunzite are combined to make a deeply calming and healing bracelet finished with Sterling Silver beads.
Details:
Material: 12mm Kunzite, 12mm Tridacna, Sterling Silver
Sizing: If you don't see a size that will fit your wrist, please reach out to us via the contact page.
Each bracelet comes thoughtfully gift-wrapped in a silk pouch, perfect for gift-giving of any other occasion.
About the Materials:
Kunzite is a highly spiritual stone, connecting to the source of unconditional love, producing loving thought and action. Kunzite centers the holder, projecting a sense of deep peace. It is a high vibrational stone and can be used to go into a deep, meditative state.
Tridacna
stone helps to soothe frazzled nerves and calm the entire body, and it also helps ease insomnia. It's also said to reduce blood pressure, promote good metabolism, and provide anti-aging benefits.