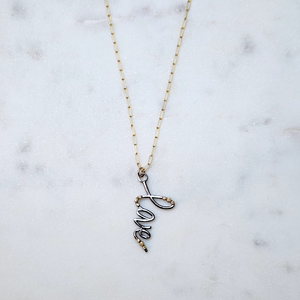 This oxidized Sterling silver Love pendant is dotted with 9 delicate little diamonds in gold bevels on a dainty paperclip chain.  Make this your Valentine gift this Valentine Season.  You'll never want to take it off! 
Details:
Materials: Diamonds, 14K gold fill bevels, and 14K gold fill chain
Necklace length: 16 inches with a 2" extender
This adorable necklace comes thoughtfully gift-wrapped.  
About the Materials:

Diamonds hold deep spiritual meanings thanks to their rarity, purity, and brilliance. Formed over billions of years and composed of pure carbon – the foundation of all life in the world around us – diamonds have also been used over the centuries to help open the mind to new possibilities. It is believed that the illumination and reflection of a diamond will inspire imagination and ingenuity in its wearer. They also bring about strength, fortitude and courage through a diamond's hardness and 'invincibility,' having the power to drive away bad energy or fortune.
Gold-filled jewelry has a thick layer of real, solid 14K Gold on the outside of a brass core. The 14K Gold that's on the outside of Gold-filled jewelry is the same Gold as you would get from a solid 14K piece. It is less expensive than solid Gold and is made by bonding Gold to a base metal to give it the appearance of Gold. The process involves a high amount of heat and pressure and the resultant Gold-filled piece is much more durable than a Gold plated-piece. Gold-filled jewelry has 100x more Gold alloy than Gold-plated jewelry, and because that layer is so much thicker, it means Gold-filled jewelry lasts longer and stands up to wear and tear better.