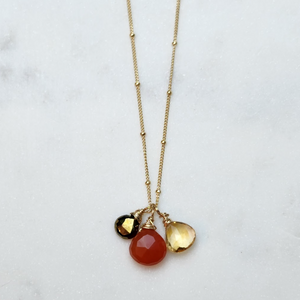 This Carnelian, Citrine and Pyrite necklace celebrates the 2023 year of the Water Rabbit.  This trio necklace will stand on its own beautifully or be the main character in your layered look. A large heart-shaped Carnelian briolette, symbol of creativity and vitality, is flanked by two smaller accent briolettes, Pyrite for courage, and Citrine for joy and abundance.
 Details:
Materials: Carnelian, Pyrite, Citrine, 14K Gold-filled satellite chain
Necklace Length:

16" Standard, also available in 18" and 20" lengths, each comes with a 1.5" extender.

This beautiful handmade necklace comes thoughtfully gift-wrapped.
About the Materials:
Carnelian is a stone of creativity, individuality, and courage. It is said to have protective energies and to help as a memory aid, as well as serve as protection against feelings of anger, jealousy, and anxiety. Carnelian stones have protected and inspired all throughout history. Carnelian restores vitality and motivation and stimulates creativity. It is associated with the Sacral Chakra.
Pyrite is a stone of action, vitality and will, and taps into one's abilities and potential, stimulating the flow of ideas. It brings confidence and persistence to carry things through to completion.
Citrine is a stone as bright as its energy. Everything about this stone emanates positivity and joy. Even its name, which is derived from the French word for lemon, carries a sense of sun and joy attached to it. Citrine is one of the only stones which dissipates negative energy, and never requires cleansing or clearing. Its warm energy promotes optimism and attracts abundance.