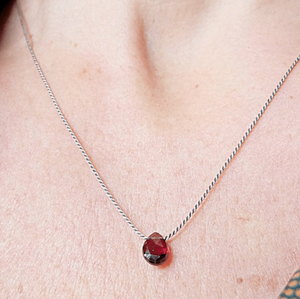 This Little Darling necklace is all about the Garnet stone. January's birthstone, this semi-precious stone is the stone of devotion, love, and stability. 
This Simple Garnet Necklace will bring its wearer joy and delight. This is a necklace that you will want to wear every day and it will layer beautifully with your other jewelry. The silk cord is finished with a Sterling Silver spring clasp and is 16", but can be made longer at your request. 
Details:
Materials: Garnet, Sterling Silver clasp, silk cord
Necklace length: 16 inches
This beautiful handmade necklace comes thoughtfully gift-wrapped. 

About the Materials:
Garnet is a deeply spiritual stone associated with the Heart, Base, and Sacral Chakras.  Long considered symbols of higher thinking and self-empowerment, it is also a stone of strength and safety.