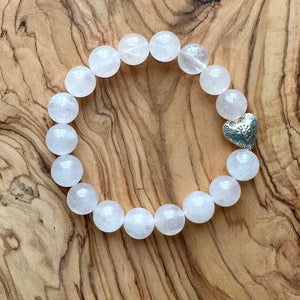 Rose Quartz is the stone of universal love. It encourages unconditional love, purifies and opens the heart to promoting love, self-love, and friendship, as well as deep inner healing and feelings of peace. This just might be the one you need this season! This is a limited edition for Valentine Season!
Details:
Material: 10mm AAA Madagascar Rose Quartz Amethyst, Sterling Silver Heart bead.
Sizing: If you don't see a size that will fit your wrist, please reach out to us via the contact page.
Each bracelet comes thoughtfully gift-wrapped in a silk pouch, perfect for gift-giving for any occasion.
About the Stones:
Rose Quartz has the power to open up your heart chakra to every kind of love that you need—whether it's self-love, familial love, friendship love, love for humanity or romantic love.  Worn close to the heart, it gently and powerfully heals the heart from any sadness, heartbreak, or grief.  It is a unique stone associated with the heart chakra (of course).