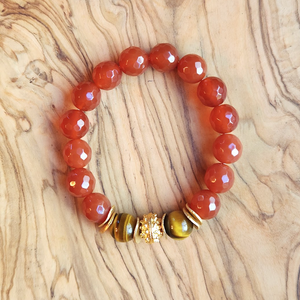 Carnelian and Tiger Eye Bracelet
Carnelian is a stone of creativity, individuality, and courage. Tiger Eye is a stone of courage and motivation and will support you at being successful whatever you undertake. This combination is perfect for all the artists, magic makers, doers and visionaries in your life! 
Details:
Material: 10mm faceted Carnelian, 10mm Tiger Eye, 24K Vermeil bead and spacers.
Sizing: If you don't see a size that will fit your wrist, please reach out to us via the contact page.
These bracelets are designed equally for women and men and are uni-sexy.
Each bracelet comes in a thoughtfully gift-wrapped box or silk pouch, perfect for any gift-giving. This will make a wonderful holiday gift for Dad!
About the Materials:
Carnelian stones have protected and inspired all throughout history. Carnelian is believed to have protective energies and to help as a memory aid, as well as serve as protection against feelings of anger, jealousy, and anxiety. It is a stone that restores vitality and motivation and stimulates creativity. It is associated with the Sacral Chakra.
Tiger Eye is a stone of courage and motivation. This stone will help you be successful at everything you do and help you transform feelings of fear into courage and self-confidence, while helping you shift your perspective so you can see the way forward.